Catholic Life of St Joseph's
Living out our School Mission Statement
Our School's Mission Statement of 'Inspired by joy, we grow together as members of a unique family who respect, love and forgive each other', is not just something that is displayed around the school, but it is a statement that is brought to life within our close-knit family.
The children have spent time unpicking this statement and thinking about what it means to them. Each class has produced work about this in their 'RE Big Book'.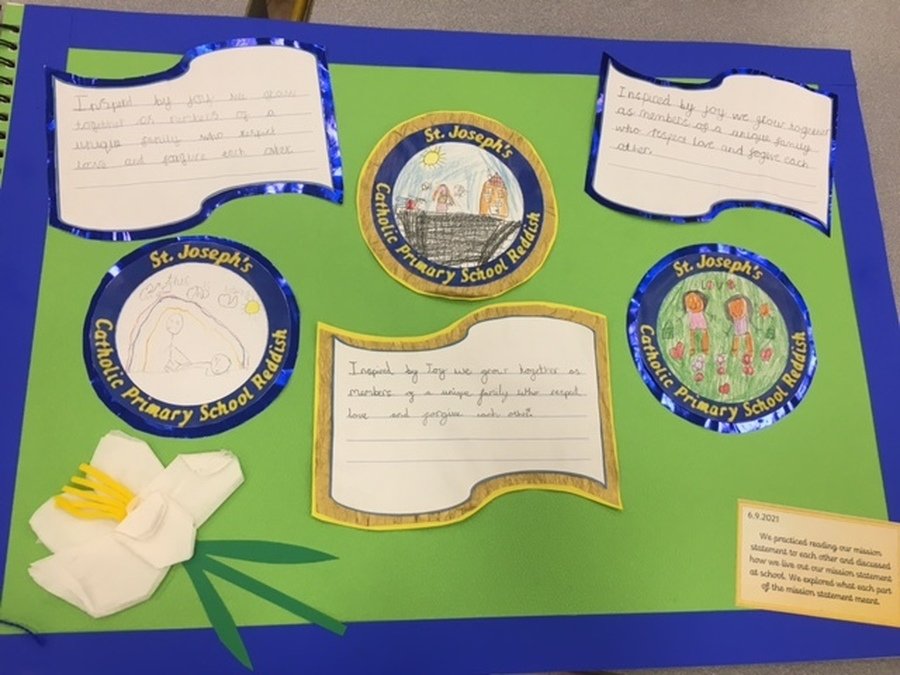 Caritas: Stewardship
As part of our Caritas work, which means living out our Faith, we have a special learning focus each half term. Last half term we had a special day focusing on Stewardship. This involves teaching the children about caring for the gifts that God has given to us, including the environment, our own personal talents and other resources. We talked about our interdependence with all living creatures and how we should use God's gifts responsibly to meet the needs of everyone, now and in the future.
Year 1 talked about how we can look after our environment by walking to school, picking up rubbish and growing plants. Some children also visited the Parish garden to see how the plants have grown.
Class Saints
This year, each year group has been assigned a Saint to study. The children must find out about their Saint, particularly in relation to what it is that made them so special. They will consider what we can learn from each Saint in our mission to live out God's Word. Year groups will deliver assemblies about their Saint and celebrate their Saints' feast days.
Class Charity
Each year group has been given a charity to research and fundraise for throughout the year. In December it is Year 1's turn to carry out their very important work supporting the first of their two year group charities, CAFOD. CAFOD is the official aid charity of England and Wales who work internationally to support people living in poverty.