Little Acorns Forest School
Continue your Wild Adventure!
Hello Everyone! I hope you are all keeping safe and well, miss you all lots.
I've put together a few ideas to keep you busy and hope you get some inspiration. A small activity once a day can really help and there's so much to see all year round.
If you have any ideas that you would like to share with your friends then you can contact me, any time by email: alison.thorpe@st-josephs-reddish.stockport.sch.uk
You can send me pictures of you being creative and I will share them on the website.
Keep smiling and being the amazing you!
A little bit of nature every day really does make you feel happier and healthier.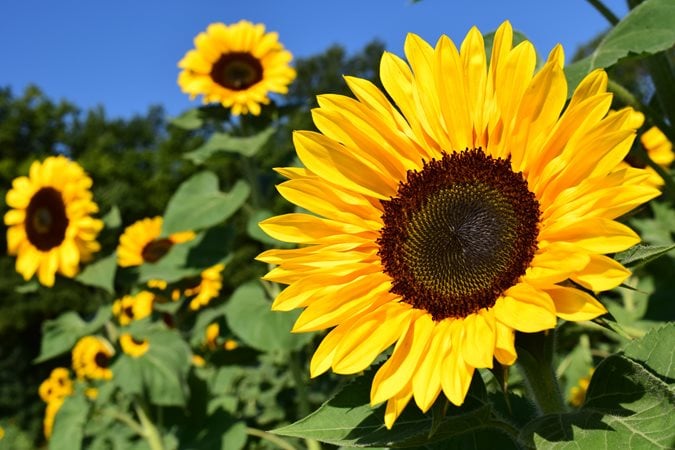 It's currently Hedgehog Awareness Week (3rd - 9th May 2020), and if you're looking for ways to look after these spiny sweethearts, you're in the right place!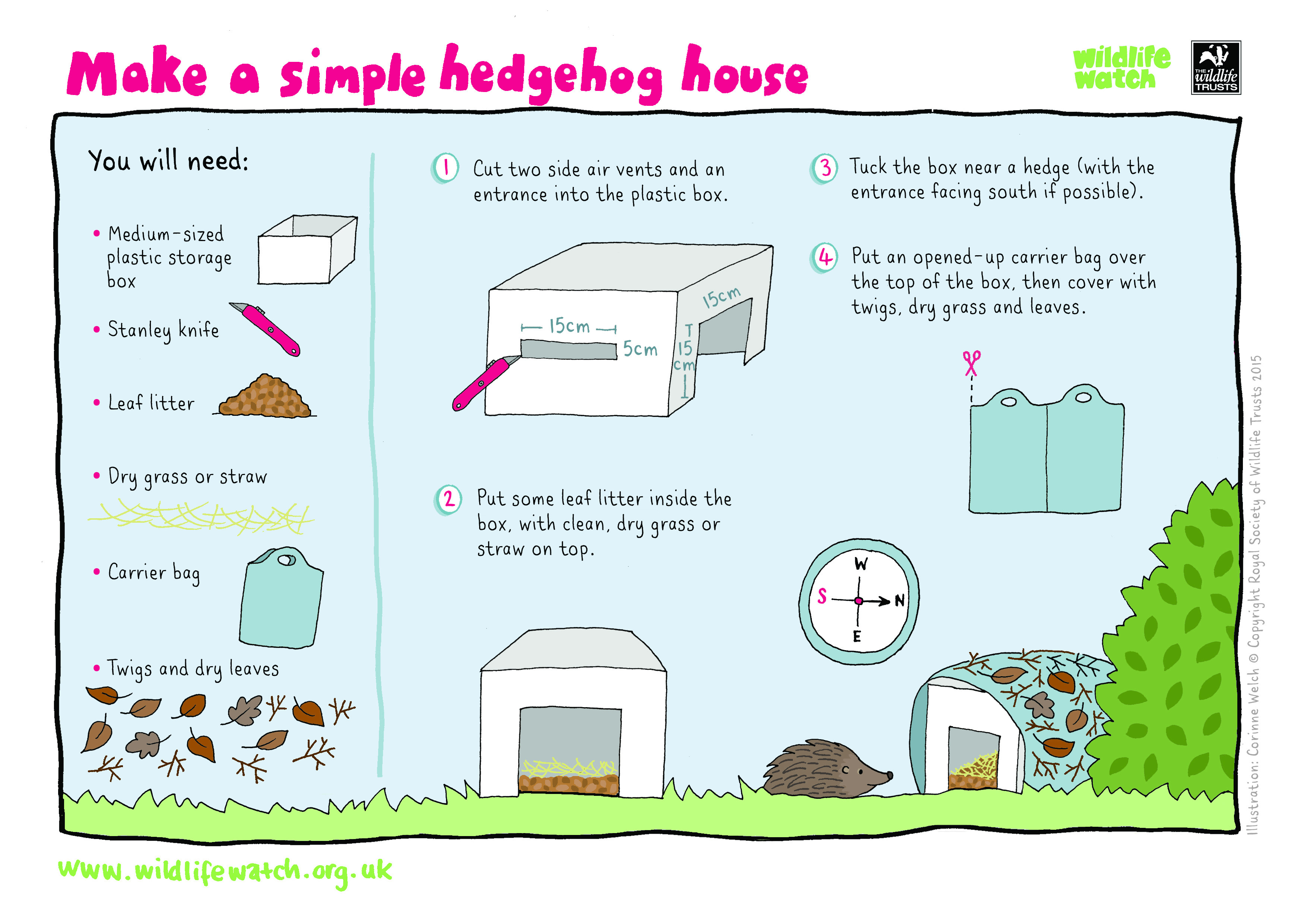 Enchanting Facts About Hedgehogs
The name for a baby
hedgehog
is a hoglet.
Hedgies have poor eyesight, but excellent senses of smell and hearing.
Hedgehogs
got their name through their foraging habits.
Each hedgie has between 5,000 and 7000 spines — each of which lasts about a year.
Hedgehogs
are known as the gardener's friend.
There are 17 different species of hedgehog.
European hedgehogs hibernate throughout the Winter.
Identification
How many can you spot when you are out and about or lucky enough to have in your garden?
Can you name the ones we have in Little Acorns at school?
You might want to draw the ones you found or play snap!
Send in your pictures and see if your friends can name them.
Have a look at what your friends have been up to!
Keep those pictures coming!
Lola, enjoying making her bird feeders in the garden. Yum! Yum!
Holly and Lola have been planting their sunflowers over the Easter weekend. I am sure they will grow really tall in the lovely sunshine.
Well done girls!
Ruby has been very busy with her dad. They made a 'Premier Inn-sect' (fab name) to encourage wildlife into their garden and a lovely Easter activity, creating a beautiful heart using sticks that she found.
Fantastic Ruby!
Frankie in year 6 has been busy too. He made a den for his brother and sister and then made this air raid shelter that is going to be a bug hotel. Frankie, you're a natural, keep it up!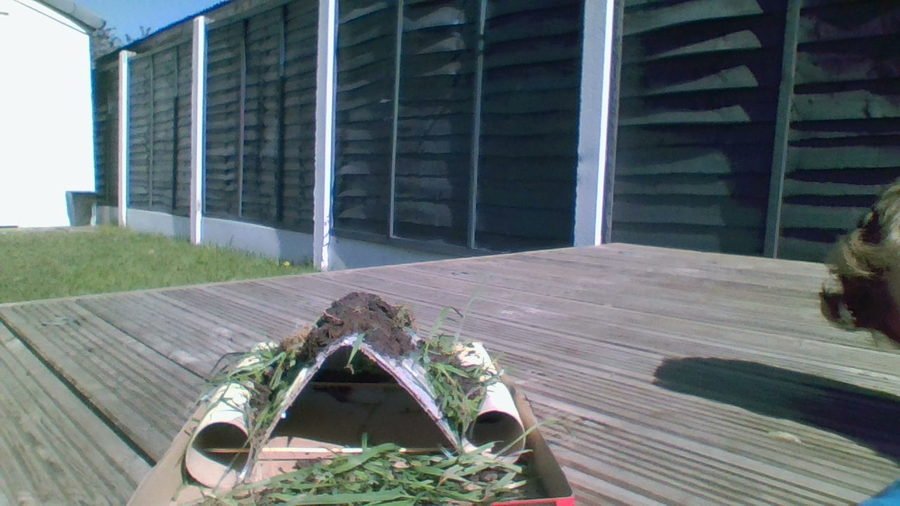 Alfie loves the outdoors! Look at all the things he has been upto. We can't wait to see how those vegetables turn out. Mum even got involved, enjoying filling all the holes that Alfie created!
Here is Milo being very creative making a bug den for his garden.
Looks fab Milo, I am sure you will get lots of visitors.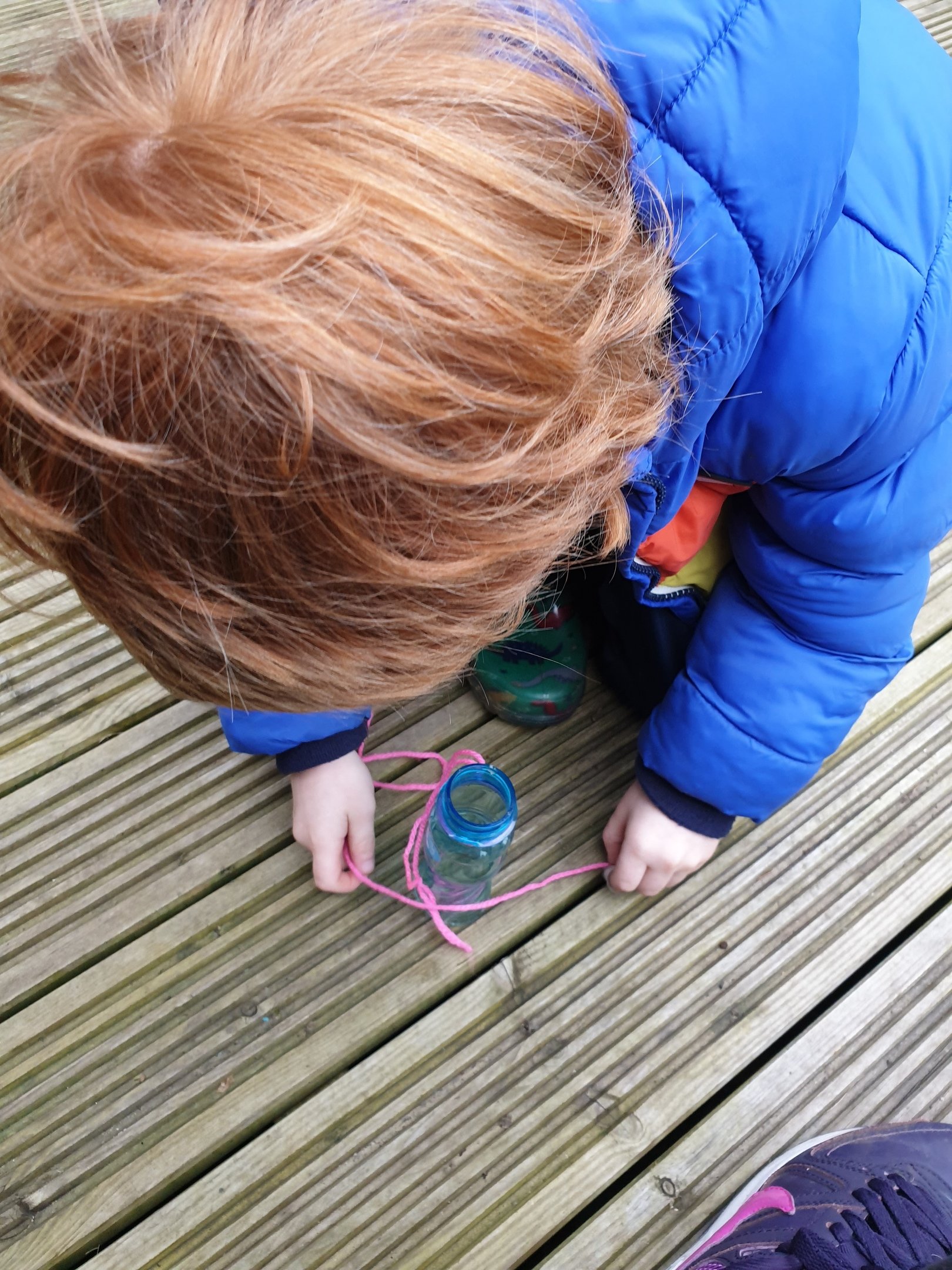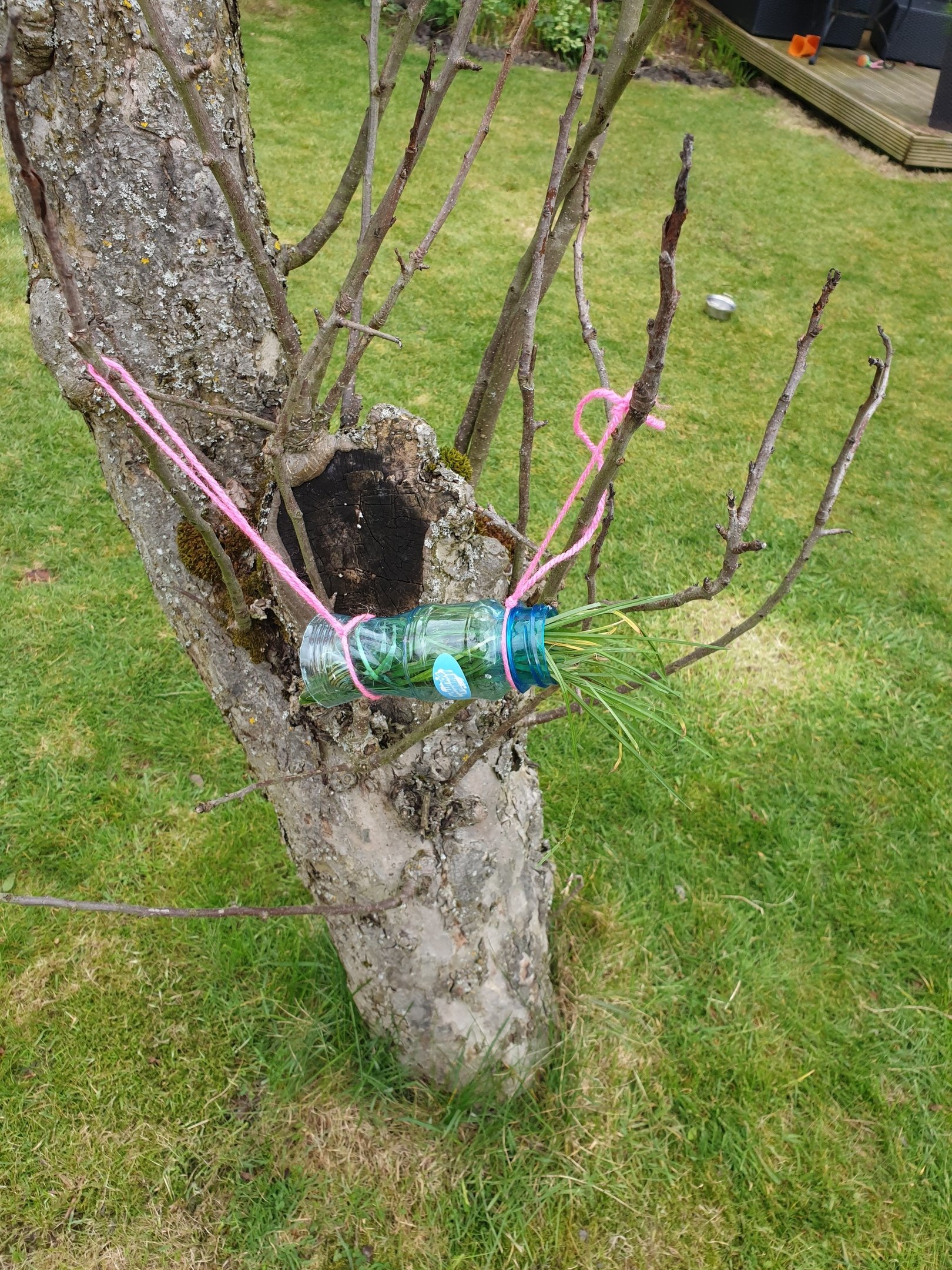 Lola, being very artistic in the sunshine on her Shadow Drawing.
It looks amazing, Well Done Lola!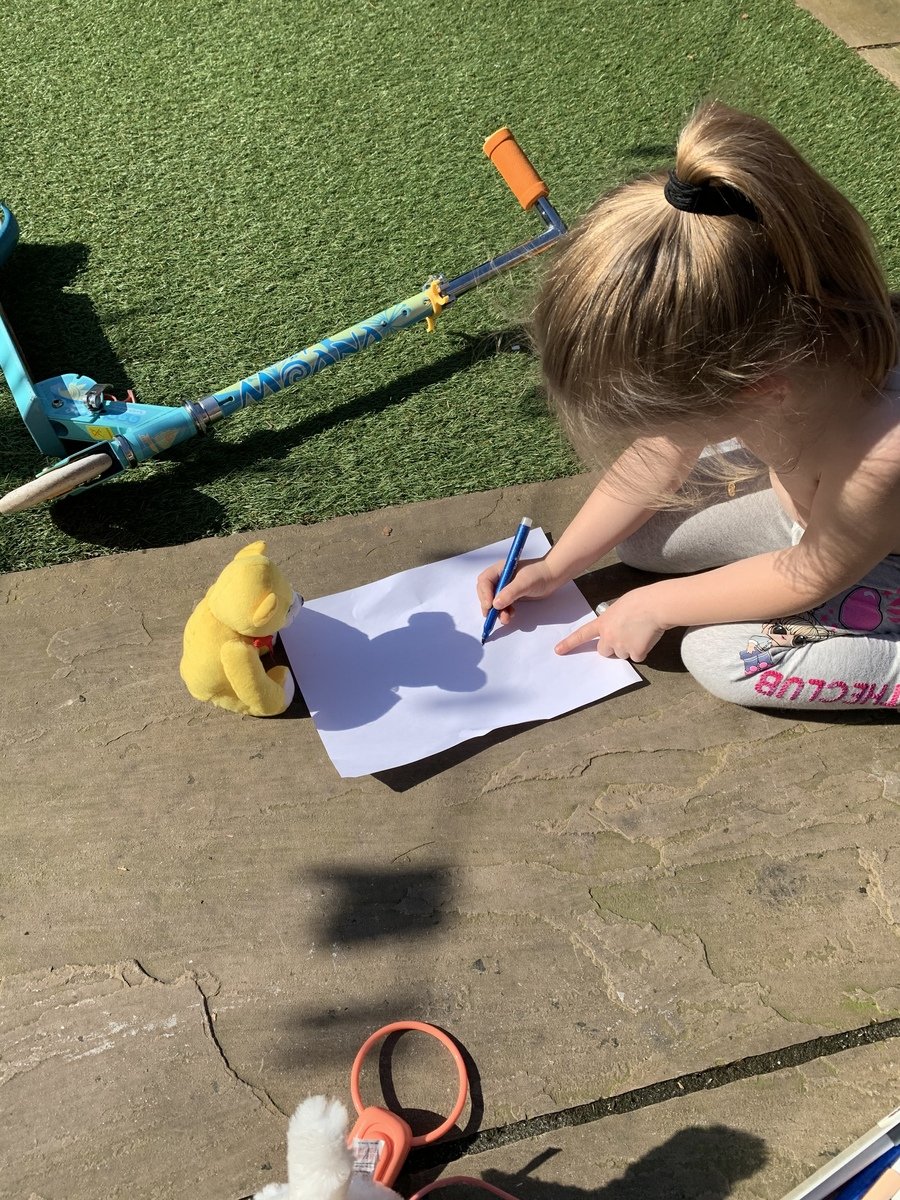 We've got quite a few ideas below - but you can make up your own, too!
1. Build a bug hotel
Encourage insects to your garden by building them their very own residence using planks of wood or old pallets or crates piled up with bricks between the layers, just like our own Bug-ingham Palace! Old cardboard boxes will do. The insects won't mind as they are very tiny.
You can fill the gaps between the layers with things to make your visitors feel at home, such as cardboard tubes, shredded paper, feathers and pebbles, and keep checking every day to see who has moved in.
2. Memory Skills!
Gather a small collection of items, say 10, from your garden or indoors, like feathers, pine cones, pebbles and leaves. Whatever you find interesting and then cover them up.
Your challenge is to search the area for the same objects, and then come back to see how many you've managed to collect. No peeking while you're on the hunt!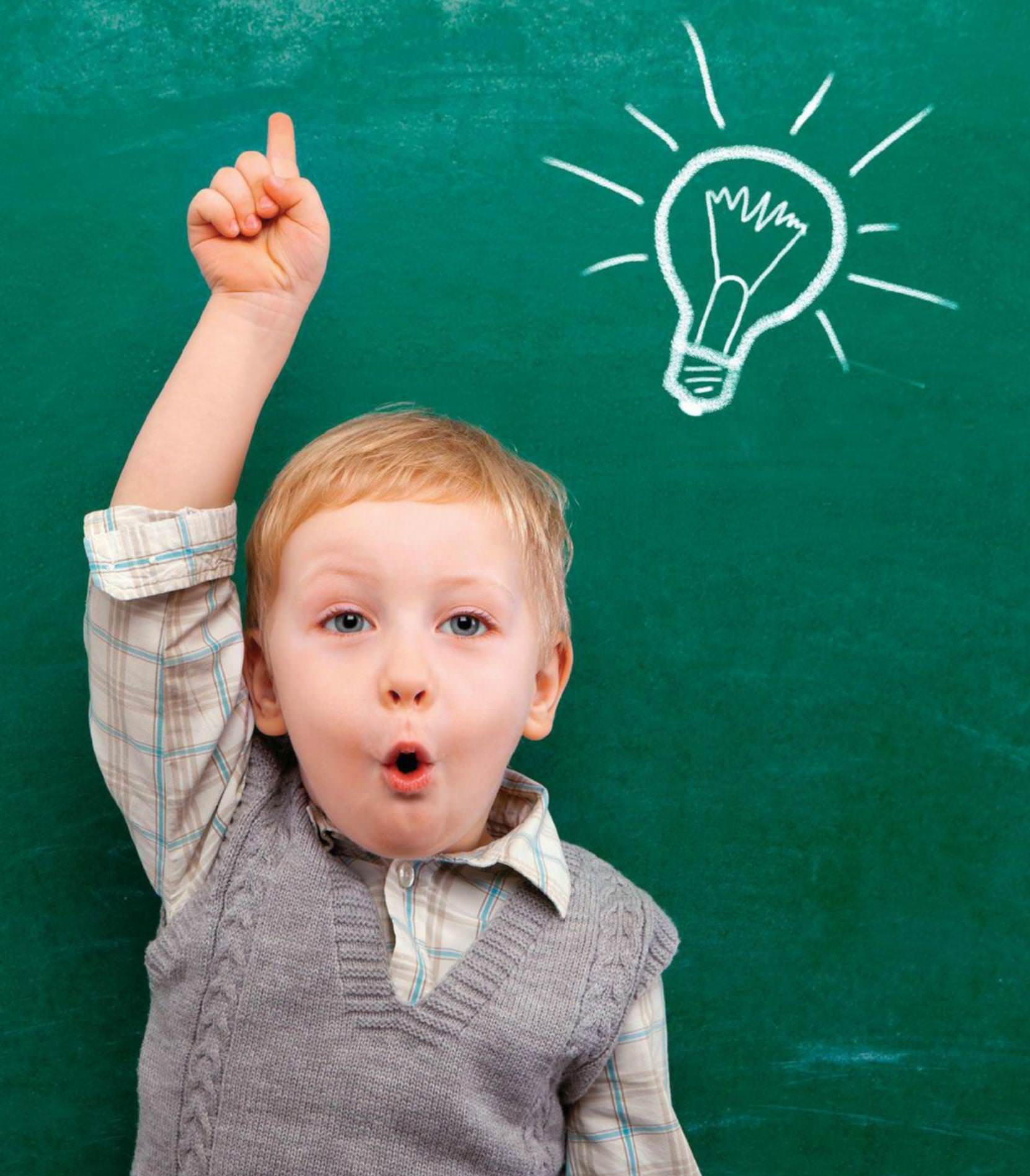 3. Create a tower
Can you make a tower of natural stones?
All you need to do is gather a range of flat rocks and pebbles in different sizes, and then stack them in order, with the largest at the bottom and the smallest at the top.
If you can't find stones then get creative! Cups, pans, plates, pegs, spoons, shoes! Send in a picture of your towers. Let's see who can make the tallest one!
4. Potato peeler whittling
Whittling sticks is a great outdoor/indoor activity and using a potato peeler rather than a knife makes it much safer.
You can use the peeler to whittle the bark off a stick, and then use felt tip pens to decorate it. Remember our safety rules: always away from your body and down to the floor, sit with both feet on the ground and knees together.
Stick a feather, string, glitter etc to the end, and it becomes a magic wand!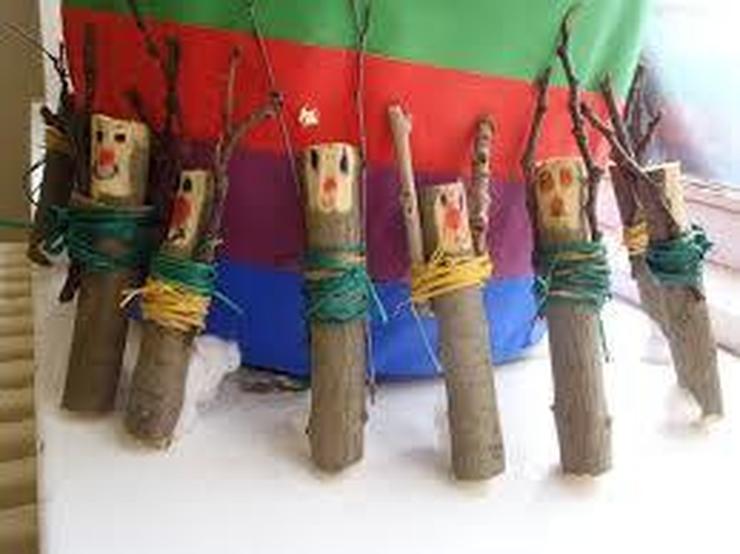 5. Flower crowns
Time to be a King, or Queen, fairies, woodland nymphs or royalty.
Collect flowers, leaves and grasses or make your own using paper. Weave into a nature-inspired crown.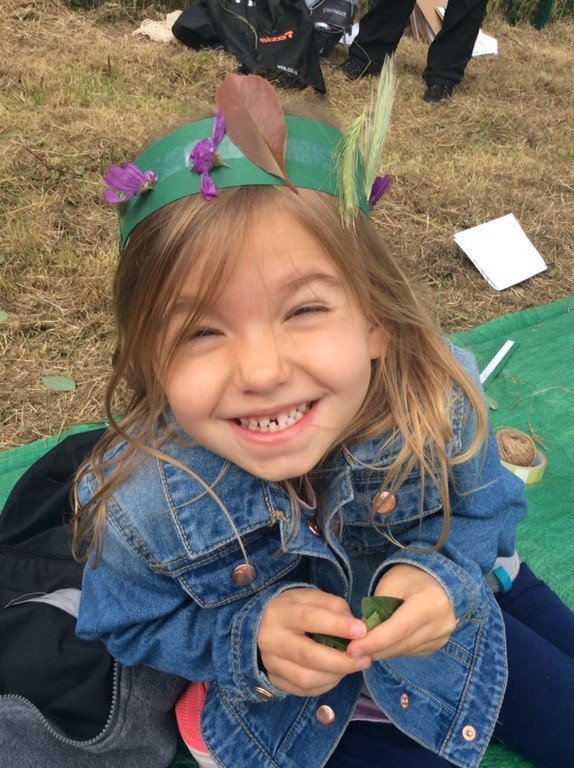 6. Build a den
Building a den is a brilliant back-to-nature challenge that will awaken your inner caveman, and it's a great project to get stuck into with a friend or sibling.
Find some thick, long sticks and challenge yourself to create your own shelter, either by leaning them up against a tree, or by lashing them together with string at the top for a tipi-style den.
You could take an old sheet out with you to give your den-building more scope. (make sure you ask a grown up first!)
If you can't find any sticks or branches or the weather isn't great outside, then use chairs, walls, gates or even your sofa to build the best fortress/den you can.
7. Woodland dragons
Did you know that chalks are also good for drawing on trees?
The textured bark is really satisfying to draw on, helping you develop fine motor skills, pencil grip and mark-making, as well as creativity.
Try looking for knots in trees that look like dragons' eyes, and using the chalks to draw on the surrounding area: the bumpy bark makes brilliant dragon skin.
8. Giant bubbles
This hands-on science activity is much more fun than blowing bubbles from a tiny pot.
Combine six cups of water, one cup of washing-up liquid, and half a tablespoon of glycerine (the magic ingredient, available from chemists).
Tie a piece of string of any length into a circle, dip it into the bubble mix and waft it around to make giant bubbles.
You can experiment with how much to mix the solution to make the best bubbles, and see which weather conditions are the best for bubble-blowing.
9. Construct a labyrinth
Using sticks, you can create a maze of any size on the ground for parents, friends and siblings to find their way around by following the paths they've laid. Make it more interesting, blindfold them and give them clear directions.
10. Shadow pictures
Grab some of your favourite toys and lay them on the ground behind a piece of paper. Their shadow will fall on the paper and you can draw around the shadow. Fill in the details and you're an instant artist!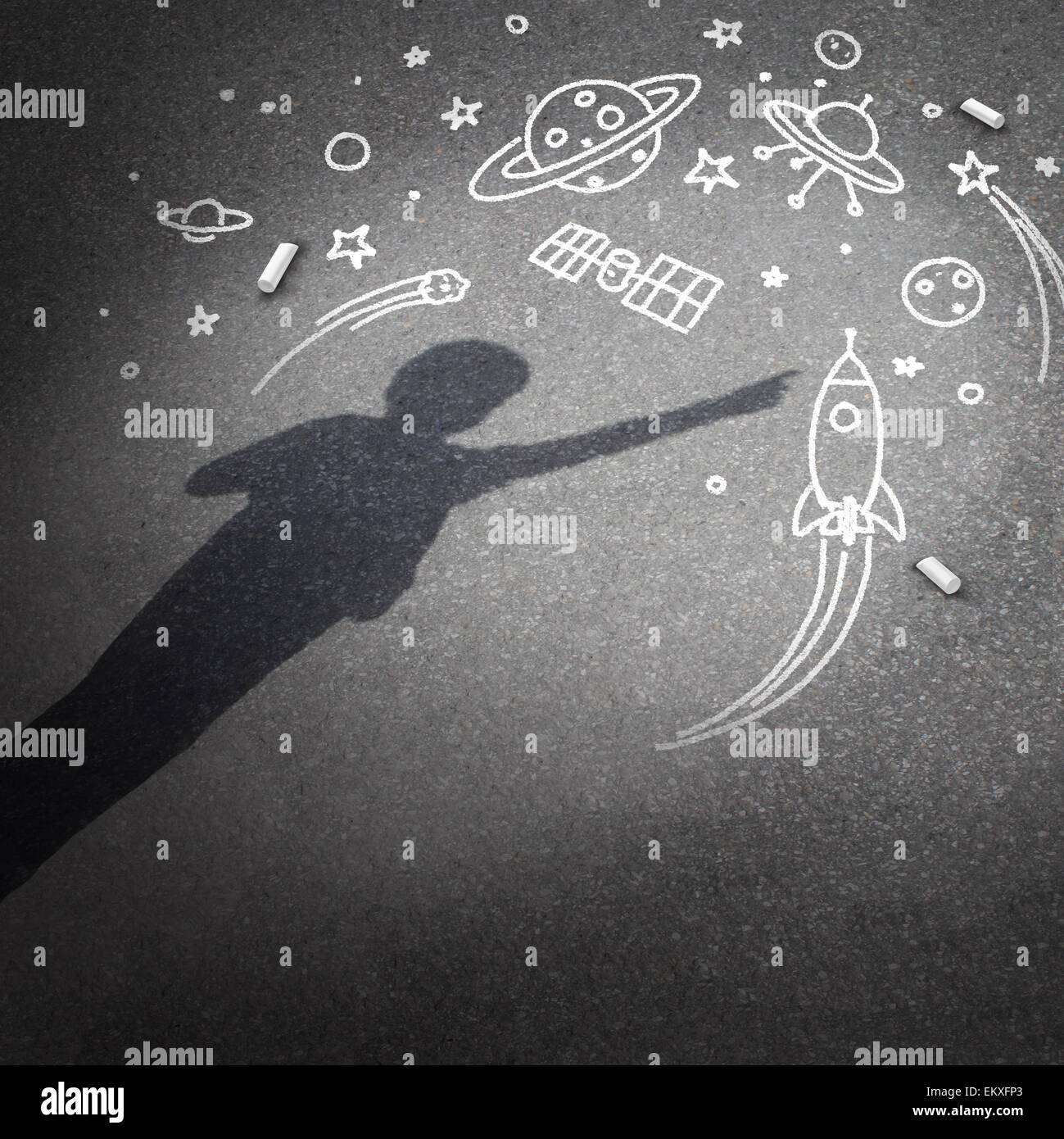 They can take a few seconds, a few minutes, or if you lose yourself completely, a few hours!
Keep coming back as there will be more ideas to follow.
Remember, send me your pictures!