Class Teacher
Miss Shaw
Early Years Team
Mrs Howe Miss McKenna Miss Robinson Miss Bridge
Mrs Gallery Miss Hencher Mrs Waldron Mrs Baxter Miss McCarthy
At St Joseph's the Early Years team work closely together, sharing the same outdoor environment.
Reception children all share the same indoor environment. Over this year, your child will meet all of these staff.
If you have any queries or concerns, please speak to me. I am always around for a quick word first thing in the morning or will be happy to meet you at some other time if you need more time.
Please label all clothing. That way if anything gets lost, we can return it to you.

School doors open at 8.35 and close at 8.45 when we register the children. If you are delayed please take your child to the main office.

School finishes at 3.15. We will keep our doors open until 3.25 and then ensure the children are escorted safely to our school office. If you are delayed, please ring school so we can reassure your child.

If you know someone new will be picking up your child from school, please let me know or ring our school office.

We will be outside most days at some point. Please ensure your child has appropriate outdoor clothing (waterproof coat with a hood, waterproof shoes, or sunhat depending on the weather).

Please read with your child every night and write in their reading record.
Learning
We aim to make learning fun. Topics are based on quality texts, and we try to follow the children's interest. We understand and value the support you provide for your child at home. Early years staff would love to hear about what you and your child have been doing at home. We encourage you to share your child's learning, achievements and experiences with staff, as this helps us to build a more complete picture of your child.
Religious Education
The Catholic ethos of our school is at the centre of all our learning. In RE we follow the 'Come and See' Scheme.
Autumn 1
Our first topic is Welcome, and we will be looking forward welcoming and involving you in the children's learning and celebrations.
Autumn 2
This half term we finished our topic on Baptism. Some of the children shared photo's of their own Baptism. We have been learning about how Hindu's celebrate the festival of Diwali.
Our next topic is Advent. We will be preparing ourselves for Jesus' birthday and learning more about the Nativity story. The Reception children will be performing the Nativity with Nursery. We hope you will come and join us!
Literacy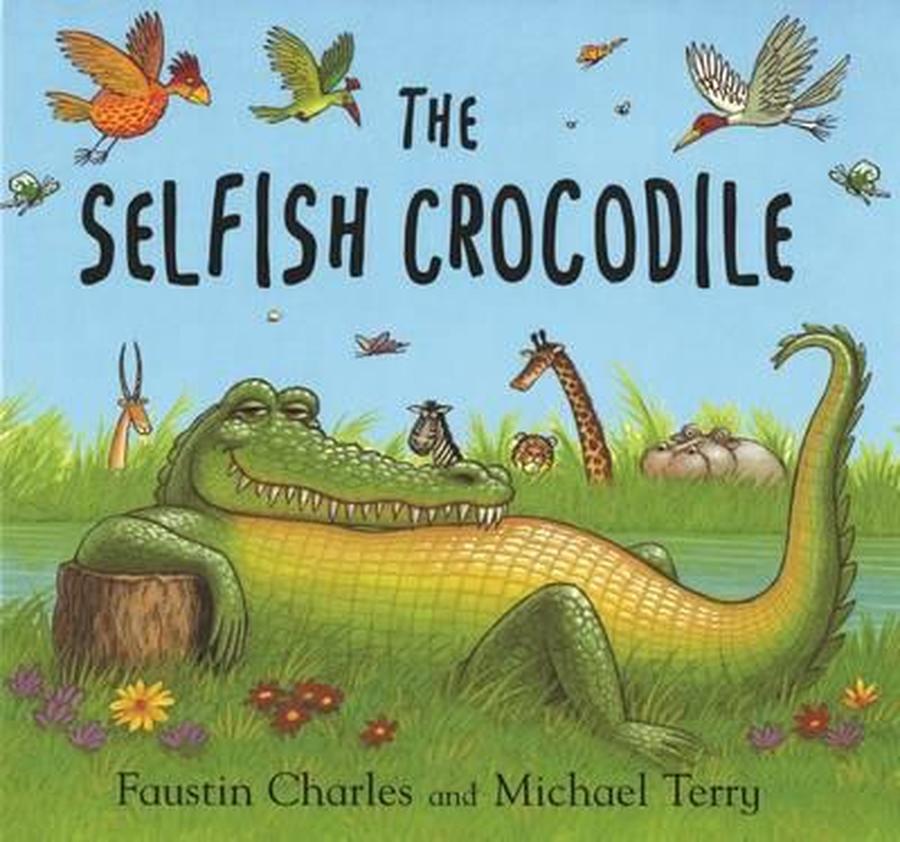 The Selfish Crocodile by Faustin Charles and Michael Terry
Our next quality text is The Selfish Crocodile. This is a story about a crocodile who won't let other animals use the river, until he has a toothache. The animals wouldn't help him for fear until a brave mouse climbed up onto the crocodile, walked into his mouth and pulled out the bad tooth. The crocodile was grateful and then learned to share the river and to be kind to others.
At the beginning of the year, most Reception children are learning to recognise and blend the 'Set 1 ' sounds. Below is a link to a video to support the correct pronunciation of these sounds.
https://www.youtube.com/watch?v=hCBzNnSSxds
We also teach the children to blend sounds together - both with and without the letters, using a character called 'Fred' who can only talk in sounds, as seen in the link below:
https://www.youtube.com/watch?v=dEzfpod5w_Q
In Reception, there is a big focus on using correct letter formation. Below are the RWI phrases we use to support correct formation. Please encourage your child to say these phrases as they write which will help them to form letters correctly. Thank you.
https://schools.ruthmiskin.com/media/uploads/downloads/handwriting_phrases.pdf
Further information for parents from Ruth Miskin (the founder of RWI) can be found on: