Mission Day 2019
Mission Day 2019
5 April 2019 (by admin)
What an amazing day!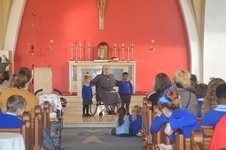 What an amazing day!
Sister Judith Russi led us in our aim to create a new mission for our new school. Parents, children, staff and governors all worked together to create the vision for our school to ensure that we are clear about our purpose as a school community. Thank you to all who were involved in making this such a special day.